"Well, it's either kiss me or kill me, that's how I see it." – Tom Waits
The other night at a little fundraiser in San Francisco, I met a young Iraqi man. As the guests sipped chilled wine and nibbled on dainty little roast beef sliders, he told the story of how he fled from Iraq as ISIS controlled greater and greater swathes of territory. They throw gay men from tall buildings he said, his voice shaking. But now I am happy now, he said. I got out. I live in Seattle. I have found a husband. Everyone applauded.
I wonder what that young man was thinking as he read about the massacre in the nightclub in Orlando, whether it shook his sense of refuge, that a man allegedly "inspired" by ISIS had brought a bloodbath to such an unlikely target–a gay club that called itself "Orlando's Latin Hotspot".
I wonder what the young man thought when he read what the father of the shooter who unleashed that bloodbath said. It was not about religion, said Seddique Mir Mateen, Omar Mateen, he said, had come across two men kissing in Miami and was infuriated that his three-year-old son had witnessed it as well.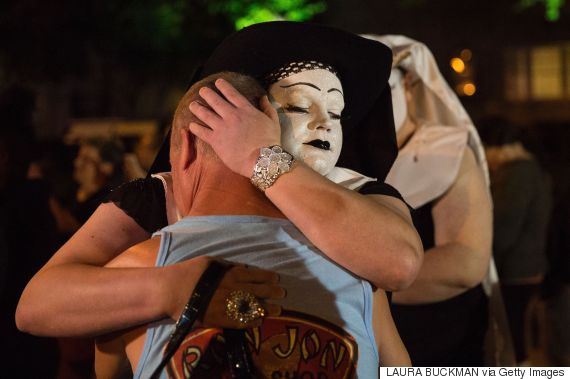 It was as if homophobia, even such deadly homophobia, was the lesser sin, the more understandable one. It was if he was saying better Omar Mateen, the homophobic bigot than Omar Mateen, the ISIS lone wolf jihadist.
Of course the lines of demarcation are never that clear. When ISIS released that video showing gay men being thrown off a building in Mosul, Iraq, they were doing it in the name of religion. The caption at the bottom of the screen read "The Muslims come to watch the application of the law."
We cannot duck the facts, especially when the facts come in a rain of bullets. This is about religion or at least some barbaric twisted interpretation of it. This is also about guns and gun control and a conversation America refuses to have. It is about all of those things although in a polarized country, poised for an election, it is tempting to focus on only one or the other. Donald Trump wants to talk about the "dangerous" Muslim. Barack Obama wants to talk about lethal guns.
"Appreciate the congrats for being right on radical Islamic terrorism," tweeted Trump. Obama said, "The massacre is therefore a further reminder of how easy it is for someone to get their hands on a weapon that lets them shoot people in a school or a house of worship or a movie theater or a nightclub. We have to decide if that's the kind of country we want to be. To actively do nothing is a decision as well."
But a country that looked away from a shooting in a church and an elementary school, will hardly be moved towards gun control by a massacre in a gay nightclub. Likewise while Muslim American organizations have been quick to condemn the massacre, will the clerics, the ones who issue fatwas, be moved to call for introspection because of the death toll in a gay club?
Neither Narendra Modi nor Ashraf Ghani mentioned the word "gay" when they issued their statements of condemnation. Ghani called it a "coward act of terror". Modi said he was "shocked at the shootout". But let's not forget that inconvenient word "gay" in the inevitable debates about gun control or Islamic terror. It is the word that sticks in the gullet of our public conversations, like an errant fish bone. Let's not forget that Omar Mateen left the floor of a nightclub floor slick with blood. Death, even death so gory, bloody and messy apparently did not disgust him as much as two men kissing did. And let's not forget young men like that Iraqi fleeing for asylum, who are both gay and Muslim and do not have the luxury to choose one identity but not the other.
In a "First" World where same-sex marriage is becoming more and more the norm, we sometimes forget that in much of the rest of the world, being LGBT can still be life-threatening. Omar Mateen brought that horror home to America. Who knows if he thought about his timing but he brought it home as Muslims around the world embarked on Ramadan. And he brought it home as LGBT Americans embarked on Pride Month.
It has sent shockwaves through the LGBT community. At a corner in San Francisco's historically gay Castro district, a makeshift shrine with flowers had a hand-lettered sign that said 'Orlando, SF Weeps' and 'RIP Orlando' next to a red heart. The rainbow flag that flutters over San Francisco was at half-mast after the shooting. "We think that because we have same-sex marriage the work is done. It's not," said San Francisco supervisor David Campos, himself Latino and gay, at a candlelight vigil in the Castro.
In the wake of the success of marriage equality in cities like San Francisco and New York and Miami, LGBT Pride feels like just another festival these days, filled with garlicky fries and warm beer. A friend jokes that it has all become so normalized the heterosexual onlookers are the ones who are more festively dressed. The actual LGBT marchers are often in sweatpants and Google or Oracle t-shirts pushing strollers with their toddlers. Yet Omar Mateen reminded us that all that "normalcy" cannot be normal enough for some.
That most basic of human gestures of intimacy, a kiss, can still be deadly.
This Pride, let there be candlelight vigils and moments of silence and vows of solidarity. But let them also kiss to mark the Pulse of life itself.
Comments
comments